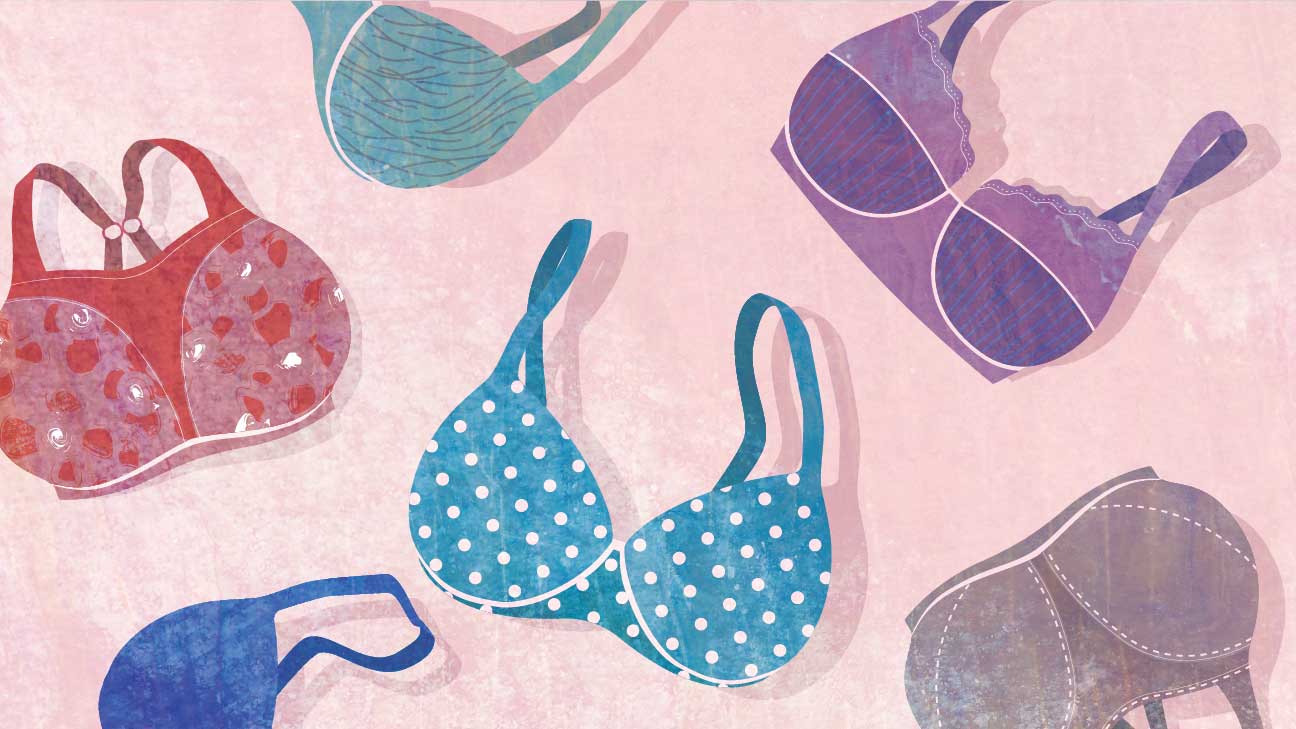 By Somnath Shinde, pht
My motivations for writing this blog comes from my time spent at McGill University researching and writing my thesis about heavy breasts and their relation to the spine. I came across many participants who were curious about how different breast sizes could actually change their posture. They asked the following types of questions:
Can my breasts really change the structure of my spine?

Can my heavy breasts be responsible for my physical pain?

Is my back pain psychological?
Unfortunately, for the most part, the answer to these questions is "Yes". Out of several symptoms of breast hypertrophy or large breasts, back pain is the most widely considered problem and one of the most common reasons why women take medical leave from their job 1.
Defining "big breast"  
Heavy or big breasts also known as breast hypertrophy or mammary hypertrophy or macro mastia, is a condition characterized by an increase in mass of the mammary glands, disproportionate to body size and structure 2,3. Rogliani et al. suggested that overdevelopment of the milk gland and adipose tissue can also be a potential root cause for breast hypertrophy 4.
Breast hypertrophy is commonly seen in women post-puberty, post-partum and in obese women.
Although a natural asymmetry is present in normal breast tissue, hypertrophy is often seen bilaterally 2,3. One indication of abnormal size is a breast weight that exceeds approximately 3% of the total body weight 5.
The relation between breast hypertrophy and postural changes
During my thesis, our study consisted of adding an artificial breast implant ranging between 300 cc to 800 cc on each side of the participant's chest. Within 10 seconds, we found immediate significant changes in the thoracic-lumbar angle. The spine would bend forward with each increase in added weight to the chest.
So, consider the long term effects of carrying such a weight over several years, the changes in their spinal structure could lead to overstretching, tightening, and fatigue of muscles which are heightened by the persistent physical stress.
Eventually, this becomes one of the factors for pain in the neck, shoulder, and/or back area often combined with poor posture 
6,7
.
For example, in figure A, you can see a normal spine in which the breasts are equal and proportionate to the size of both the body and spine. In figure B, you can see a shift in the red curve which shows changes in the spinal structure with increased breast size.
Relationship between Breast Hypertrophy and mental health
Breasts induce a sense of femininity and self-esteem in women 8. Issues related to self-image, self-consciousness, and shyness is not uncommon in women with breast hypertrophy 9. Mostly in teenagers after puberty, a rapid growth in breast size occurs, which may lead to self-conscious behaviours. These present as adopting a forward shoulder position to hide the chest leading to both shoulder and spinal structure changes. These could contribute to their physical as well as psychological pain.
Some studies have shown that patients with breast hypertrophy suffer from depression, anxiety, and lower self-esteem than patients who had undergone breast reduction surgery 
10
.
Psychological factors may influence how an individual responds to physical symptoms, such as pain. Hill et al. have shown that psychological factors play an important role in the perception of back pain; particularly with respect to the risk that pain will become chronic 11. Bletzer et al. found a correlation between depression and back pain 12. Hence breast hypertrophy can be a leading factor for depression, low quality of life and also be another reason for psychological pain in women.
This flowchart explains how a heavy breast mass can affect both physical and psychological well being
I will be addressing available options to deal with breast hypertrophy  in my next blog. If you have any questions, post in our comments or email us at [info@18.188.65.76]. I would be happy to answer your questions.
Also, feel free to share your experiences with us in the comments section as well!
***
Somnath Shinde, Pht
MSc Rehabilitation Thesis (Spine)
McGill University
---
References:
1. Kelsey JL, Golden AL. Occupational and workplace factors associated with low back pain.
Occupational medicine (Philadelphia, Pa.).
1988;3(1):7-16.
2. Foged J. [Symptomatology of breast hypertrophy].
Ugeskrift for laeger.
1953;115(12):439-451.
3. Goulart R, Jr., Detanico D, Vasconcellos RP, Schutz GR, Dos Santos SG. Reduction mammoplasty improves body posture and decreases the perception of pain.
Can J Plast Surg.
2013;21(1):29-32.
4. Rogliani M, Gentile P, Labardi L, Donfrancesco A, Cervelli V. Improvement of physical and psychological symptoms after breast reduction.
J Plast Reconstr Aesthet Surg.
2009;62(12):1647-1649.
5. Dafydd H, Roehl KR, Phillips LG, Dancey A, Peart F, Shokrollahi K. Redefining gigantomastia.
Journal of plastic, reconstructive & aesthetic surgery : JPRAS.
2011;64(2):160-163.
6. Berberoglu O, Temel M, Turkmen A. Effects of Reduction Mammaplasty Operations on the Spinal Column: Clinical and Radiological Response.
Aesthetic plastic surgery.
2015;39(4):514-522.
7. Kerrigan CL, Collins ED, Striplin D, et al. The health burden of breast hypertrophy.
Plastic and reconstructive surgery.
2001;108(6):1591-1599.
8. Atterhem H, Holmner S, Janson PE. Reduction mammaplasty: symptoms, complications, and late results. A retrospective study on 242 patients.
Scandinavian journal of plastic and reconstructive surgery and hand surgery / Nordisk plastikkirurgisk forening [and] Nordisk klubb for handkirurgi.
1998;32(3):281-286.
9. Goin MK, Goin JM, Gianini MH. The psychic consequences of a reduction mammaplasty.
Plastic and reconstructive surgery.
1977;59(4):530-534.
10. Chao JD, Memmel HC, Redding JF, Egan L, Odom LC, Casas LA. Reduction mammaplasty is a functional operation, improving quality of life in symptomatic women: a prospective, single-center breast reduction outcome study.
Plast Reconstr Surg.
2002;110(7):1644-1652; discussion 1653-1644.
11..Hill JC, Dunn KM, Lewis M, et al. A primary care back pain screening tool: identifying patient subgroups for initial treatment.
Arthritis and rheumatism.
2008;59(5):632-641.
12. Bletzer J, Gantz S, Voigt T, Neubauer E, Schiltenwolf M. [Chronic low back pain and psychological comorbidity : A review].
Schmerz (Berlin, Germany).
2016.