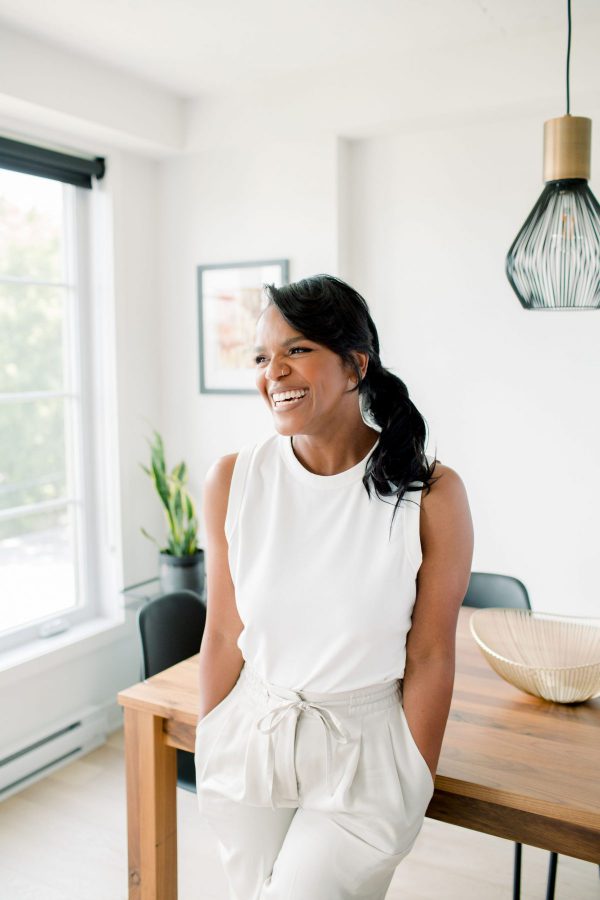 BY KARINA JACKSON, M.SC., OT.
**Portrait by Lisa Renault Photographie**
---
"What is occupational therapy?" To answer this question, I have chosen to become one of many voices in the ongoing conversation with the medical community which emphasizes the pivotal contribution of occupational therapists in most, if not all, healthcare settings including women's health. I am determined to consistently engage in this conversation surrounding the benefits of occupational therapy because I genuinely see the value in the services we offer. 
And okay fine, it's also because I'd like to someday change the general response that I receive when I divulge the news that I have expanded into women's health: 
Person A: "What? Occupational therapists can do that?!" 
Me: *Sigh* "Yes, yes, we can" 
If you're an occupational therapist, you know exactly the response I am referring to. And this response encompasses most conversations surrounding occupational therapy services in general. So instead of avoiding the conversation altogether:
Person A: "What do you do for a living?"
Me: "Oh, I'm an … therapist" 
Person A: "OH what kind of therapist?!"
Me: "You know… the physical kind"
My resolve is to lead the conversation in a different direction, one that will hopefully achieve the greatest impact in which occupational therapy is well understood in all corners of mental and physical health. One that highlights occupational therapy in all its multifaceted glory. Starting with this blog.
How did my professional experience lead me towards women's health?
Shortly after graduating, I started working in an acute care hospital on the inpatient medicine unit. Although it was a uniquely challenging environment from which I have gained invaluable skills, this environment just wasn't for me. Upon this realization, that's when I unexpectedly stumbled (headfirst) into a replacement position in the outpatient hand therapy department for the treatment of post-traumatic and post-surgical hand-related conditions. I say unexpectedly because hand therapy was a very challenging practice area that I actively avoided as a graduate student. I also say unexpectedly because my experience in hand therapy became the light house amidst a sea of professional opportunities and uncertainty. The love that I have developed for what I do and the impact I believe I can have on the community have equipped me with the confidence to advocate the need for occupational therapy at a multidisciplinary private clinic specializing in pregnancy and postpartum care. After a few conversations with the lead physiotherapist and co-founder of Nuvo Physio, I was instantly inspired by the connection between hand therapy and perinatal health.
What is hand therapy and how does it relate to pregnancy and postpartum?
"Hand therapy is the art and science of rehabilitation of the upper limb, which includes the hand, wrist, elbow, and shoulder girdle. It is the merging of occupational and physical therapy theory and practice that combines comprehensive knowledge of the structure of the upper limb with function and activity…" (What We Do | American Society of Hand Therapists (ASHT), n.d.).
Occupational therapists who specialize in hand therapy use creative, personalized and evidence-based interventions to treat musculoskeletal conditions of the arms and hands to optimize function. 
Musculoskeletal conditions include all injuries that affect joints, muscles, tendons, ligaments, cartilage, and sometimes nerves. The transition to parenting can be difficult on an individual's body, especially when considering the increase in repetitive hand use required for baby-care tasks that often provoke the use of awkward body mechanics and ultimately result in a musculoskeletal injury. For this reason, hand and wrist problems are common complaints amongst perinatal women. According to a study that looked at 383 pregnant females, 67.4% of the pregnant females were suffering from hand and wrist problems (Balik et al., 2014). Examples of musculoskeletal conditions impacting the hand and wrist include, but are not limited to, De Quervain's tenosynovitis, carpal tunnel syndrome and cubital tunnel syndrome.
What other services can occupational therapy offer to perinatal women?
Occupational therapy services seek to empower individuals to engage in meaningful occupations and to maintain functional independence in the perinatal period. Many of these occupations (or activities) are related to caring for a newborn. The dynamic and overwhelming life changes are implicit in the arrival of a newborn. Occupational therapists are well equipped to promote women's health through interventions that aim to increase functional mobility, promote ergonomics of mothering occupations to prevent pain, and provide fatigue management and sleep hygiene strategies. 
Continuum of care
The benefits of occupational therapy services are not widely known in obstetrics and gynecology (Ob/Gyn) offices and therefore the referral to occupational therapy for pregnancy and postpartum rehabilitative care is less common. However, occupational therapists are well positioned to promote women's health during the perinatal period. A multidisciplinary approach is essential to establishing a continuum of care to ensure that the women in our communities are provided with the best care practices. 
Stay tuned for more information on occupational therapy's role in women's health or contact me, Nuvo Physio's occupational therapist, for more details! 
References:
Balık G, Sabri Balık M, Ustüner I, Kağıtcı M, Sahin FK, Güven ES. Hand and wrist complaints in pregnancy. Arch Gynecol Obstet. 2014;290(3):479–483.
Dimick, M. P., Caro, C. M., Kasch, M. C., Muenzen, P. M., Fullenwider, L., Taylor, P. A., Landrieu, K., & Walsh, J. M. (2009). 2008 Practice Analysis Study of Hand Therapy. Journal of Hand Therapy, 22(4), 361–376. 
Wagner, A. (2019). Upper Extremity Pain in Breastfeeding Mothers: A Narrative Review of the Literature. Journal of Hand Therapy, 32, 560-561.
What We Do | American Society of Hand Therapists (ASHT). (n.d.). Asht.org. Retrieved November 9, 2022, from https://asht.org/about/what-we-do