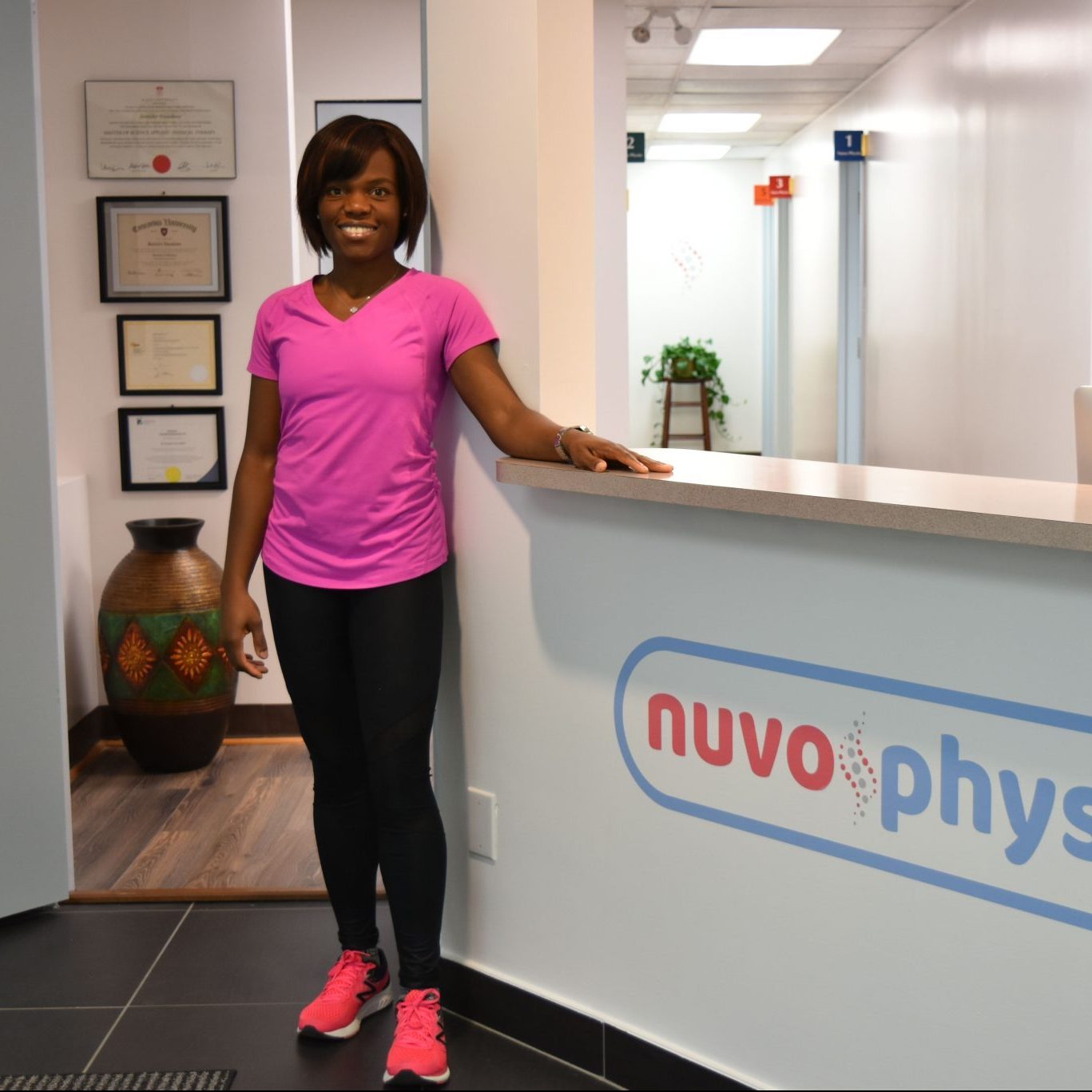 Many people ask me where my interest in physiotherapy comes from and why I decided go into this line of work. Let me tell you …
I am a Canadian of African descent (first generation) and mother of two beautiful children ages 2 and 4 years old. When I was younger, I aspired to become a singer, but it was during my adolescence, after breaking my ankle that I discovered physio. It was at this moment that I understood the impact of such a profession and in turn, I wanted to make a difference in people's lives.
In addition to my master's degree in physiotherapy (McGill University), I am accredited in massage therapy and pre- and post-natal training.
I have a marked interest – not to say a fascination – for the human body and its functionality. Thus, my primary goal is to help people bring their bodies to an optimal level, in order to avoid pain and injury.
---
" Nuvo " concept
After seven years of working in physical rehabilitation, I noticed a certain lack of services for pregnant women and new mothers.
After giving birth, why do women not consult a physiotherapist to help them recover? After all, carrying a child for nine months and giving birth are both very traumatic to our body.
I came to two conclusions. First of all, most women are unaware of the benefits of postnatal physiotherapy follow-up. Secondly, there is a lack of resources to help mothers, but moreover, resources adapted to their family reality.
This is where the concept of Nuvo Physio was born, a multidisciplinary family-friendly clinic where children are welcome.
On site, we offer physiotherapy, osteopathy, therapeutic massage, personal training, perineal rehabilitation, all under one roof.
All of this in a warm and friendly environment for the whole family!
---
Family business
I have always had the entrepreneurial spirit and this clinic finally allows me to exploit both my full potential and passion for the field of physical rehabilitation. I aspire to become a leader in the perinatal field, but our services are open to everyone, regardless of age or condition.
Moreover, I am proud to say that Nuvo Physio is a family business, since my two brothers are co-founders of the clinic as well. This aspect reflects the spirit of togetherness that we try to instill in our practice.
In short, make an appointment with us to experience our personalized approach to health and wellness. Come and  discover what really makes us unique.
Looking forward to
meet
ing
and helping you reach your full physical
pot
ential!

Jennifer
Physiotherapist and co-founder